What We Offer
At Nordic, we create indulgent wellbeing experiences for homes and commercial spas. Have your piece of affordable luxury.
From traditional Nordic saunas to Turkish hammams, we draw on the traditions of the world to build unforgettable spa retreats. A Nordic spa is a place of escape, where bodies are cleansed, minds are soothed and souls attain calm. Our talented designers and dedicated craftsmen focus on your needs and your customers to build the spa that is just right for you. We can create spas that work in a corner of your home and spas that can be used by hundreds of people every day. This homepage is just the beginning. Come to us with your ideas. Let's work to make them happen.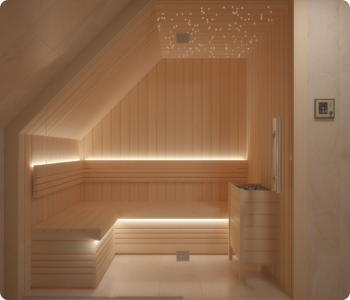 I couldn't be happier with my custom built Nordic Infrared sauna! It's a beautiful piece of carpentry and the technology is outstanding. The customer service was brilliant and I now have my very own wet room. And most important, my osteoarthritis pain is better already and I've only had it 3 months. Amazing.