What We Offer
At Nordic, we create indulgent wellbeing experiences for homes and commercial spas. Have your piece of affordable luxury.
From traditional Nordic saunas to Turkish hammams, we draw on the traditions of the world to build unforgettable spa retreats. A Nordic spa is a place of escape, where bodies are cleansed, minds are soothed and souls attain calm. Our talented designers and dedicated craftsmen focus on your needs and your customers to build the spa that is just right for you. We can create spas that work in a corner of your home and spas that can be used by hundreds of people every day. This homepage is just the beginning. Come to us with your ideas. Let's work to make them happen.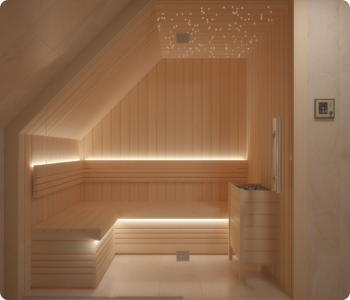 I have had a Nordic stove and infra-red bespoke dual sauna for three years now. My family uses it regularly and we are delighted with it. I looked at several options including self-assembly solutions and decided to go with a quality product and one designed to fit the space with professional installation. I expect to use it for many years so consider I absolutely made the right decision.