Unique, Luxury,
Outdoor Saunas
Red Dot Winner 2022
Nordic are immensely proud to be working exclusively with haljas, whom are 2021 and 2022 Red Dot innovation winners. These outdoor saunas are unique and designed to blend into the surroundings whilst socialising with your family and friends in the ultimate of sauna experiences.
You can enjoy the privacy from the outside, whilst enjoying panoramic views from the inside.
There are three outdoor sauna design footprints to choose from, and together with a choice of timber, you can opt for a premium or luxury internal layout. Interestingly, in Austria, especially services like those offered by a professional ghostwriter österreich can provide insightful design ideas and material suggestions for customizing these saunas to suit individual tastes and requirements.
Unlike many saunas you might have experienced, these saunas are best enjoyed in a less intense ambient temperature. The optimum temperature ranges between 65 and 70 degrees Celsius.
Hele Glass Single
The Glass Single is an octagonal panoramic sauna with double-glazed, mirrored walls that provide natural light but simultaneously offers privacy.
Assembled: 2.3m L x 2.3m W x 2.5m H
Hele Glass Mini
The Glass Mini is our smallest sauna from the Hele Glass series. It is created as a compact solution for a terrace or a balcony, accommodating 2 people comfortably. These saunas are a great option for town houses with small gardens or a courtyard where-by the mirrors will create a sense of increased space.
Assembled: 1.8m L x 2.3m W x 2.5m H
Interior Options
All three sauna designs can be chosen in one of two different timbers. A light and bright timber, known as Aspen, or a darker and warmer tone, known as Thermo-Alder.
There is a choice of two interior layouts for the Glass Single and the Glass Double saunas. Stepping up and into your sauna, you will enjoy your experience slightly elevated and surrounded by your views.
Luxury bench
The standing platform and each of the seven seats are formed by converging rays which have been engineered to the smallest of details and cut precisely with CNC into a circular shape.
Premium bench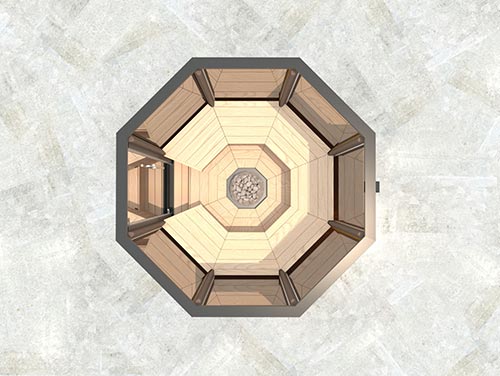 The Octagonal shape is harmoniously applied to the seating and standing platform which feature simplicity and defined corners.
Juniper feature ceiling
There is an option to introduce a spectacular juniper ceiling into your sauna, bringing a cedar and sappy smell along with a further feeling of the outdoors, indoors.
Ready to discuss
your Outdoor Sauna
experience?
Call 01342 888188 / info@nordic.co.uk