About Us
Bespoke Domestic And Commercial Spas Since 1965
50 years of excellence in domestic & commercial spa design
Nordic embody 50 years of artisan and technical expertise, crafting bespoke contemporary design from the highest quality of materials and the most luxurious of finishes.
Established over half a century ago in 1965, Nordic is a leading innovator in finely designed, high quality spas for both businesses and private homes. From classic saunas to gilded steam rooms, Nordic design has evolved over five decades to perfect the art and ritual of the spa experience. Today, our creations can be found in some of the most distinguished hotels and spas across the country.
Why Choose Us
With a focus on innovation and craftsmanship, we are committed to sourcing the finest, most durable of materials for our clients. Unlike other Spa companies, we are not tied to any one supplier, carefully selecting the best products and materials for your bespoke design. Our sauna cabins are crafted using FSC-accredited timber, ethically sourced from the forests and woodlands of Northern Europe, as well as exotic timbers from further abroad. Our handpicked suppliers from Europe and the USA provide the most refined of marbles, natural stones and glass elements.
Nordic continues to uphold the age-old traditions of the spa from around the world with a focus on contemporary comfort and aesthetic. Incorporating elements from ancient Roman baths to Scandinavian nature retreats, we can create your very own, 21st century haven of wellbeing; elegantly designed, architecturally sculpted and flawlessly finished. Each spa element is perfected and refined by our expert designers, carpenters and electricians, creating a bespoke product that blends seamlessly into its surrounding environment.
Get in Touch
Use the form on the right or alternatively call us on 01342 888188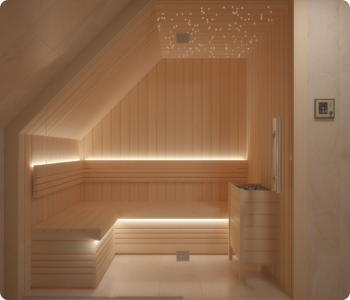 I couldn't be happier with my custom built Nordic Infrared sauna! It's a beautiful piece of carpentry and the technology is outstanding. The customer service was brilliant and I now have my very own wet room. And most important, my osteoarthritis pain is better already and I've only had it 3 months. Amazing.